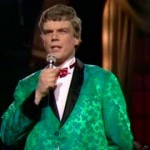 Jonas Hallberg förnyade mediet TV i slutet av sjuttiotalet och början av åttiotalet med sina halsbrytande, oväntade, respektlösa och fritt tolkade översättningar av direktsända intervjuer av de utländska gästernas svar i Måndagsbörsen. Han var med och startade SUCK 1988 tillsammans med Adde Malmberg och Bertil Goldberg (det var Jonas Hallberg som kläckte själva namnet) och Hallberg själv är som en svensk version av Steve Martin och Woody Allen i en och samma person. Den 26 oktober 1981 lät det så här i Måndagsbörsen då Ramones gästade programmet:
JH: Det här är pojkarna Ramone, de heter i alla fall allihopa Ramone i efternamn och de kommer från New York City. That's right, you're from New York City!
JR: That's a good place to be.
JH: Right, det är ett ställe jag skulle vilja vara på.
JR: Good place to be here in Sweden to.
JH: Diplomatiskt svar, så skulle vi vara här i Sverige just nu också! I'd like to know, I mean: You play rock ' n ' roll, right?
JR: Taht's true, good point.
JH: Thank you, heh… Who were your forefathers as It ware? I mean who made you start, who gave you the kick?
JR: Eh, well… We've been influenced by the best of them ever, I guess since the Rock and roll started 55 ya know, wether It'll be Elvis, Buddy Hollie, Roy Orbison, trouh out the sixties The Beatles, the whole Brittish invasion early Who, I know millions of influences, ya know what I mean…
JH: Right, ja, här nämner Joey ett antal (Joey flikar in):
JR: Just how you express It that makes It unique, Its the way how you suck It In and the way you put It out makes It your own very special thing, ya know.
JH: Okay, the thing Is, alltså: Vad Joey Ramone här säger är alltså att de har influerats från 1955 och framåt av till exempel Elvis Presley, Roy Orbison och sedan då på 60-talet av Ze Beatles, som vi känner till här i Sverige, och dom var ju också bröder… Ja, I'd like to know also: Who writes your material?
JR: Well, myself and the baseplayer Dee Dee we wright the mayority of everything.
JH: Yes, Dee Dee Ramone och Joey Ramone skriver alltså materialet tillsammans. (Jonas vänder sig om mot Joey och säger): It's nice to be talking to someone at an appropriate size.
JR: Yes, It's about time, ya know…
JH: Ja, jag säger just det här (fniss) att det är trevligt att tala med någon som har rätt längd, det är ett litet skämt vi har som är 2 meter, vi brukar skoja om det. Actually you are touring the whole year around now, Is that right?
JR: Yeah yeah, when we're not touring we recording,ya know. We'd just finished recording our newest album that's the last song are called We want our airwawes, from our Pleasant Dreams-LP, which everyone should by…
JH: Jag förstår. Där hade vi en liten kommersiell sak som vi inte har med i det här programmet, vi jobbar inte på det sättet, men man kan ändå berätta att det handlar om airwaves, Whta's airwaves, Is that waves In the air?
JR: Yes, that what It Is.
JH: Ja just det, det är luftvågor alltså.
JR: They fladder by, ya know!
JH: Yeah. Like blowin in the wind?
JR: … … … !? (publiken skrattar).
JH: Yeah. Okay. Mm, do you know this tune, ther's an old I think hit in the 50's called Ramona, have you heard that? ( Hallberg sjunger)"Ramona, badambadambadam", no?  That's not one of your relatives, no?
JR: No I'ts first time.
JH: Let's not go to deep in that, låt oss inte fördjupa oss i henne. Nåja, thank you, Joey and what would you like to do the next number, what's that ?
JR: This Is our first big single here and It's called Sheena Is a punkrocker.
JH: Awlrajt!
JR: One two three four…